The Service Stop is like planning your Safety Stop.............
Planning your equipments "Service Stop" is part of your good dive planning - just like your 15 feet, 3 minute Safety Stop. From the first dive your planning -"Do we take one, do we not take one?", but after the first dive you need to be completing your Safety Stop.
It's the same with your Dive gear
From the purchase of your new dive gear a Service Stop on your dive gear needs to be planned. Here is some information and a few guide lines to help you get in the water.
REGULATOR SERVICING
Schedule service - If the regulator is in good working order, it is permissible with most brands of regulators to overhaul it every other year with an inspection procedure being performed on the "off" years. For example Year #1: Inspection, Year #2: Overhaul, Year #3: Inspection, Year #4: Overhaul, and so on. Both Inspections and overhauls are documented to keep the Limited Lifetime Warranty of your regulator in effect.
Annual Inspection.......... $58.50
This is an examination of the complete Regulator assembly. No repairs are performed at this time however minor cleaning, tuning or adjustment may be completed to ensure proper and safe operation of your regulator. If repairs are required the customer will either have previously agreed to Overhaul Service or will have indicated they be notified before a regulator overhaul can be completed. Aquatic World performs this inspection according to Manufacturer Specification. All Aquatic World authorized Technicians maintain current Certifications and Training specific to the regulator they are working on in addition to their years of experience.
The inspection entails an 8 point testing program
Test 1 Pressurized Immersion Test - Pressurize and submerge unit to inspect for leaks

Test 2 1st Stg Medium Pressure Check - verify stable Medium Pressure is within range prescribed by Manufacturer

Test 3 2nd Stg Opening Effort - verify O.E., also known as Cracking Pressure, is within range prescribed by Manufacturer

Test 4 Smooth Operation of Knob and Venturi Switch/Lever - all external mechanisms should operate smoothly

Test 5 Inspect Filter - check for debris and discoloration

Test 6 Inspect 2nd Stg Exhaust Valve - check valve and sealing surface for cleanliness, shape and seal

Test 7 Inspect Mouthpiece - Inspect for tears, cracks or holes. Replace when necessary

Test 8 Hose Inspection - all hose protectors pulled back, check that hoses are not pulling out of have crimps or blistering
Note: If the regulator fails Test 1, 2, 3 or 4,the entire regulator should be overhauled. If a regulator fails 5, 6, 7 or 8, it is up to the technician's discretion whether or not a full overhauls is required.
If servicing overhaul is recommended by Aquatic World Service Department and is declined by the customer it is Understood and agreed by the customer that neither Aquatic World authorized Service Technician's, Aquatic World Dive Center, nor PADI Americas, Inc., nor its affiliated and subsidiary corporations, nor any of their respective employees, officers, agents, contractors or assigns may be held liable or responsible in any way for any injury, death or other damages to persons, their family, estate, heir or assigns that may occur as a result of operation of identified equipment recommended for additional servicing or as a result of negligence of any party, including the Released Parties, whether passive or active.
Complete Overhaul........1st Stage and primary 2nd Stage $69.95... Alternate Air 2nd Stage $32.50... BCD Alternate Airsource Overhaul $40.50... (Plus parts kit if not under warranty)
This is a complete overhaul of your regulator. 1st stage, primary 2nd stage and Octo or AirSourc/AirLink. Everything is completely disassembled, inspected, cleaned and required parts replaced.
Only a direct Manufacture Parts Kit is used
Diaphragm, o-rings, high-pressure seat, medium-pressure seat, and filters
Heated Ultrasonic Cleaners - The combination of a special solution and Ultra Sonic Waves allow us to remove all corrosion and help extend the life of your regulator. This procedure also removes excess lubrication residue such as silicone grease that can be dangerous when using Enriched Air Nitrox.
All parts, case, springs and valves inspected and replaced if required (Additional cost may apply on these items)
Oxygen compatible lubricants applied
Once Re-Assembled your regulator undergoes testing and tuning to Manufacturer Specifications.
Medium Pressure calibration
Opening Effort calibration
Immersion Testing
Hoses and fittings inspected and replaced if required
Air Cylinder Hydrostatic Testing - Required Every 5 Years..........
The Department of Transportation (DOT) requires a hydrostatic test on all solid-walled scuba cylinders every five years. Aquatic World can perform that required hydrostatic testing.
Note: Prior to 1990, except for Catalina Cylinders, aluminum tanks were manufactured using the 6351-T6 alloy. The Department of Transportation (DOT) has determined these cylinders unsafe and cannot be Hydrostatic Tested. It is the policy of Aquatic World and that of our Hydrostatic Testing Facility that All 6351-T6 aluminum alloy cylinders (Except for Catalina Cylinders), with a date older than 1990 even with the postproduction 3AL stamp, will not be taken in for HYDRO Testing.
Aluminum tank includes: $69.85
Hydrostatic test, Eddy Current test (Aluminum), tank wash, new burst disk, valve rebuild, Visual Inspection, all required stickers and tank air fill. For Enriched Air cylinders – O2 Clean condition maintained. Oxygen blended fill additional cost depending on % 02 requested.
Steel tank includes: $69.85
Hydrostatic test, tank tumble or tank brushing for rust removal, tank wash, new burst disk, valve rebuild, Visual Inspection, all required stickers and tank air fill. For Enriched Air cylinders – O2 Clean condition maintained. Oxygen blended fill additional cost depending on % 02 requested..
What is a Hydrostatic Test: This test requires the cylinder to be filled with water, immersed in a water tank and pressurized to 5/3's of its working pressure to determine the elasticity of the cylinder wall. The cylinder is allowed to expand up to 10%. If it expands more than 10%, or it physically fails in the testing process, it is removed from service. Current policy requires the test facility to stamp it "condemned" and stamp out the DOT information. The cylinder will then be returned to the customer. If the cylinder passes, a date stamp in the shoulder of the tank will record the tank as having passed.
Air Cylinder Visual Inspection (VIP) - Required Annually... Steel or Aluminum - $29.43... Includes Airfill
(For Enriched Air cylinders – O2 Clean condition maintained. Oxygen blended fill additional cost depending on % 02 requested..)
Note: For diver breathing safety reasons, any cylinder being bought in for an Air Fill that is below 50 psi also known as Empty, will require a Quick VIP Check - $8.00 plus airfill cost.
We can perform all necessary servicing on all your gear
COMPUTER BATTERY CHANGE WITH PRESSURE TESTING - $18.95
COMPUTER BATTERY CHANGE WITHOUT PRESSURE TESTING - $15.95
BCD INSPECTION - $17.50 plus cost of parts is needed
BCD OVERHAUL - $32.50
AquaLung i3 BCD Inflator Overhaul - $46.00 parts kit included
I3 SERVICE - $46.00
SERVICE EXPEDITING RATES - (PARTS AVAILABILITY MAY CAUSE A DELAY)
LESS THAN 2 WEEKS ADDITIONAL $115.00
LESS THAN 1 WEEK ADDITIONAL $165.00
MISCELLANEOUS GEAR, BENCH SERVICING - $45.00 HR
SAFETY GEAR
DIVE GEAR ACCESSORIES

To help insure total satisfaction we invite you to use a FREE pool practice within two weeks after your gear service is finished. To set up your session, just call ahead. Remember to bring in your certification card if it's your first time in CNY's only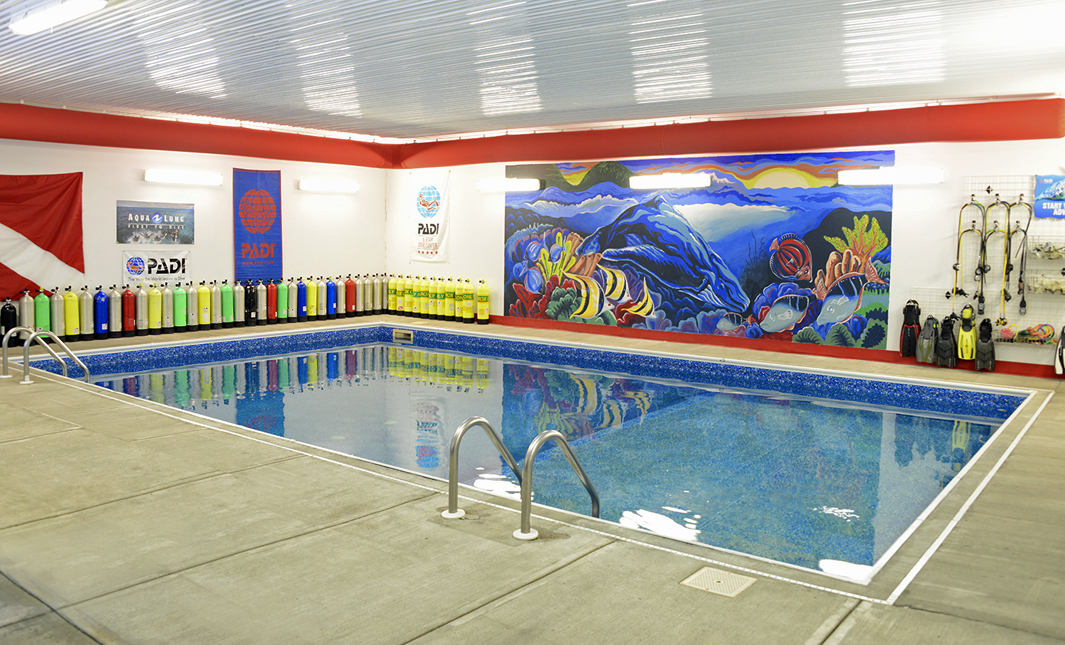 If you have questions about servicing any of your Dive Equipment call us
315.458.1955 or stop by the Dive Center on Taft Road near the DMV