Which do I need? ReActivate, Review or Refresh
ReActivate - your a PADI Diver but it's been more than just a few years because life got busy. Or you got PADI certified back in college or can't find your old PADI Card from 4 to 5+ years ago. In other words "I'm more than rusty". It's time to ReActivate.
Scuba Review - so your not a PADI Diver, yet.

But your a certified diver and it's been more than just a few years for you too. Your rusty on dive knowledge, dive planning, equipment setup and your skills. Then it's time to Scuba Review.

Scuba Refresher - this is the simple one. You certified last fall or sat around all winter waiting for dive season. You don't need the books or the online. You just need to refresh what you learned and were doing 6 or 10 months ago. Then it's time to Scuba Refresh.

The PADI ReActivate Course - for PADI Divers
Using ReActivate eLearning (for tablets or mobile devices) or ReActivate Online (for your personal computer), gets you back to the core knowledge where you'll immerse yourself in dive scenarios and make decisions that test your understanding of important dive safety concepts, dive planning essentials and problem management. Move through ReActivate at your own pace and delve deeper into topics when you need or want to.

Next get in the water, your PADI Professional will help you regain comfort and confidence in scuba diving. You'll practice a few safety-related skills and then go over anything you specifically want to review.
When your done you'll be back to your o'l dive self, if not better and you receive your new PADI ReActivate Certification Card. Dive shops appreciate seeing a recent ReActivate date on your certification card because it means you're ready to dive in.
The PADI Scuba Review Course - for Non PADI Divers
The course is designed for anyone who wants to refresh their dive knowledge. The program is primarily designed for certified divers who wish to return to scuba diving after a period of inactivity, however, it is also a great resource for any diver to brush up.  Whether you want a few reminders or need to go over the basics. You'll use the Scuba Tune-up Material for a quick and easy review of the basic dive knowledge. There is the Scuba Tune-up Learning material to review the knowledge elements as well as getting in the water praticing safety-related skills and go over anything you specifically want to review. This course is the perfect way to get ready to take your next PADI Speciality Certification.
The Scuba Refresher - it's been more that 6 months
This refresher is for the newly certified or diver that hasn't been diving in the past 6 months to a year. You just want to make sure I'm good to go on my dive vacation. Don't need the book or eLearning. Simply need a PADI Pro to take me through the skills.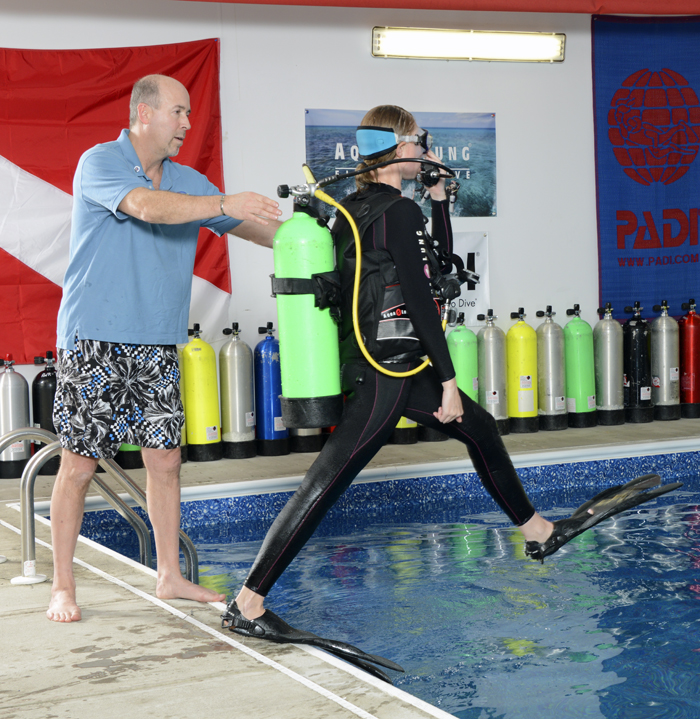 The Fun Part
Brush up on your scuba knowledge and skills. Improve your diving ability, and get your scuba gear ready for your next scuba vacation or diving holiday.
The Scuba Gear You Use
You use all the basic scuba gear. If you don't have your own gear we have Student Gear Fleet for you to use. Maybe it's time to purchase new gear, we have a large selection. 

If your course uses Learning Materials
Quickly and effectively review scuba diving fundamentals with PADI's ReActivate eLearning or the Scuba Tune-Up Guidebook. Begin by answering a few questions related to dive safety, problem management and dive planning. For example:
What are the five steps in a pre-dive safety check?
What is the maximum depth limit for all recreational diving?
What are the signs and symptoms of decompression sickness?
At 12meters/ 40 feet a diver runs out of air. Her buddy is more than 60 feet away, what should she do?
Correct answers will allow you to complete the book quickly. For incorrect answers, you'll read a brief explanation to help you understand the concept. To purchase this product, contact us.

Prerequisites
Have a scuba diver certification
Be at least 10 years old