The PADI Open Water Diver course
If you've always wanted to learn how to scuba dive, discover new adventures or simply see the wondrous world beneath the waves, this is where it starts. The PADI Open Water Diver course is the world's most popular scuba course, and has introduced millions of people to the adventurous diving lifestyle. At Aquatic World we can help you discover this lifesyle and get your PADI Open Water certification.
We have been told by our supplier's for the personal gear and educational materials that their prices will be going up again, soon. We will try our best to keep your cost down, so now is the time to lock in this special course price.
Click here to see Aquatic World's Beginner Special
Don't fall for the gimmick's and the add-on cost of becoming a Certified Scuba Diver. We are the lowest All-Inclusive price in CNY!
What You Learn
The PADI Open Water Diver course consists of three main phases:
Knowledge Development (online, home study or in a classroom) to understand basic principles of scuba diving,
Confined Water Dives to learn basic scuba skills,
Open Water Dives to review your skills and explore!
To enroll in the PADI Open Diver course or Junior Open Water Diver course, you must be:
This $765 - Open Water Special Includes these
Instructional and Personal Package Items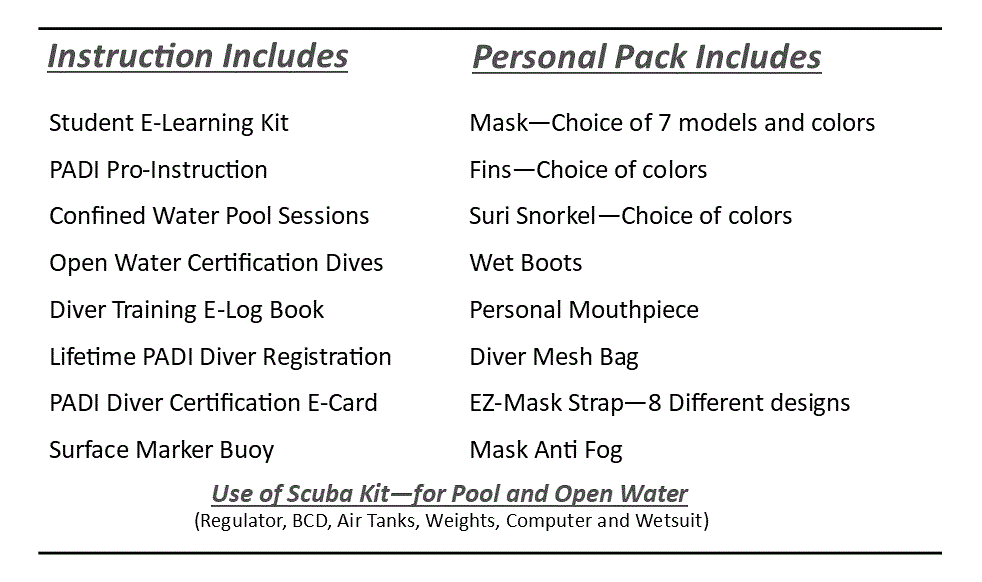 Aquatic World Provides a Comfortable and Convenient Environment for Training
Because of the High Enrollment again this year, we continue to place new student's into class through a Holding List process.
As students sign up, classes are formed around 3 to 6 students with a common date availability. We guarantee all students will be placed into a class quickly this dive season.
There is a list of classes that formed but have openings at the the bottom of this page.
The Fun Part
The fun part about this course is...well, just about all of it because learning to dive is incredible. You breathe underwater for the first time (something you'll never forget) and learn what you need to know to become a certified diver. During the course, you'll make at least five pool dives in Aquatic World's on site pool and four open water dives at local dive sites under the supervision of your Aquatic World PADI Instructor.

Get College Credits
You may be able to earn college credit for the PADI Open Water Diver course!
The Scuba Gear You Use
In the PADI Open Water Diver course, you learn to use basic scuba gear including a dive computer, and standard accessories (usage of required scuba equipment is all included in the Aquatic World Open Water program standard fee, with no additinoal hidden costs).

The Learning Materials You Need
PADI offers a variety of home-study materials for the Open Water Diver course - book and DVD package or a multimedia DVD-ROM.
PADI's Open Water Diver materials cover what you need to know about basic scuba diving skills, terminology and safety procedures. For each concept you'll read a description and watch a video demonstration. Then you'll jump in to Aquatic World's on-site heated pool to practice these skills with your Aquatic World instructor.
Later, as a certified diver, use the course materials as a reference guide for future diving adventures and to review what you learned. Aquatic World will assist you in making the right decisions on the scuba equipment you'll need to continue your adventures with competitive pricing options, on site service and support and a wealth of diving expertise to help you on your journey. We will also help you find an Aquatic World International Dive Travel destination, or an Aquatic World Domestic Trip or Local Diving excursion to help you to begin your diving adventure experiencing new things, new places, new people and making new friends.
Come get certified with Aquatic World and let your underwater adventure begin!

Aquatic World Course options
Aquatic World offers a wide range of course options from group lessons over a five week period one night a week; group weekend lessons over a Friday evening and Saturday/Sunday as well as private* and semi private* options tailored to your schedule along with the flexibility of PADI's e-learning program. All course options include four open water check out dives either locally or possibly on one of our travel destinations. You also have the option to complete your four open water dives through the PADI referral program* at any authorized PADI dive center or resort.
* Additional fees apply for private and semi-private lessons with Aquatic World. Fees for referral dives are determined by the destination dive center or resort.
*Please understand that we cannot hold students over to the next Dive Season. If you are enrolling prior to 1 September you are scheduled to complete your certification before the end of your enrollment year. After the close of the current enrollment dive season a rescheduling fee of $108 is required to restart the following year.
Diving for Veterans also:

The Aquatic World Pro Staff is currently undergoing the Training and Certification for our Open Water Diver Program to provided the needed services to our Disabled American Veteran's.
This program is of great importance to us as a large group of our Pro Staff and Board Of Directors are Veteran's. The program is not up and running at this time but we are projecting early Fall 2022 for the launch... A great undertaking for a Great Group of Men and Women who have honored and served our country Proudly!
The classes seen here are already formed but do have openings. Other classes are being formed that may not post because they filled from the Holding List..
For each course click on thetab to open the course information!
Stop by today to lock in this special price and get on the Holding List - don't delay!