Aquatic World now offers classes in the Utica/ROME Area!

Aquatic World is proud to be offering Dive classes for students in the Rome and Utica area. Similar to Binghamton area, we receive many inquiries from this part of the state and are offering our services to this area. We are lucky to have an excellent Instructor, Jean-Yves Latour, located in this area.



A little about Jean-Yves
I was originally certified for open water diving with NAUI while a college student in the 1980s. Then my diving was with friends in the Richelieu River and northern part of Lake Champlain. After university studies and several years as a professional mechanical engineer in the work force I rediscovered diving and got hooked to it a second time.
I continued my diver education with PADI, became a professional diver in 2008, and finally an Open Water Instructor in 2009 and Master Scuba Diver Trainer in 2010. I taught for some time at a Dive Shop in Connecticut. I now live in the Utica area and joined the professional team at the Aquatic World.
I love spending time under water! I constantly look for opportunities to be under water. Teaching this sport is a great activity and rewards me on a personal level . I enjoy diving in the Thousand Islands region in the summer, Dutch Springs for teaching or for pleasure, and I visit Florida and south Carribean islands two to three times a year. My wife and I enjoy underwater photography.
My instructor rating allows me to teach and certify the following : Discover Scuba, Open Water Diver, Advanced Open Water Diver, Rescue Diver, Dive Master, Digital Photography, Enriched Air Diver, Drift Diver, Dry Suit Diver, Wreck Diver, Peak Performance Buoyancy, Navigation Diver, Emergency Oxygen Provider and AWARE Coral Reef Conservation/Project AWARE.
I can also prepare and certify you for the unexpected as an Emergency First Response Instructor teaching the courses, First Aid/CPR/AED for Adult and Children.
Finally, I am also a certified PSI inspector for pressure cylinders, allowing me to complete the annual inspection of scuba cylinders.
Living in Utica I can provide these courses locally. All necessary equipment, including pool, gear, air compressor, and presentation materials, are available for student use here in South Utica.
Get information
To find out more you can contact Jean-Yves by email or phone. You can also contact Aquatic World directly. We are excited about expanding to this area and serving the needs of current and future divers.
What Students say about learning with Jean-Yves:
"I wanted to send a formal note of appreciation following completion of my basic certification requirements. I thought the training was exceptional throughout. Jean-Yves was the perfect instructor - disciplined, direct, clear no-nonsense approach to making certain we mastered the skills. Repetition and review until we did master them. And gentle encouragement and complete acceptance as we found our way. I just completed my check-out dives with him and it was the same very positive process. Clear, direct, encouraging with an emphasis on skills and safety. I am looking forward to mre diving and more training with Jean-Yves and Aquatic World. Thanks for everything."
Ron F. - September 2019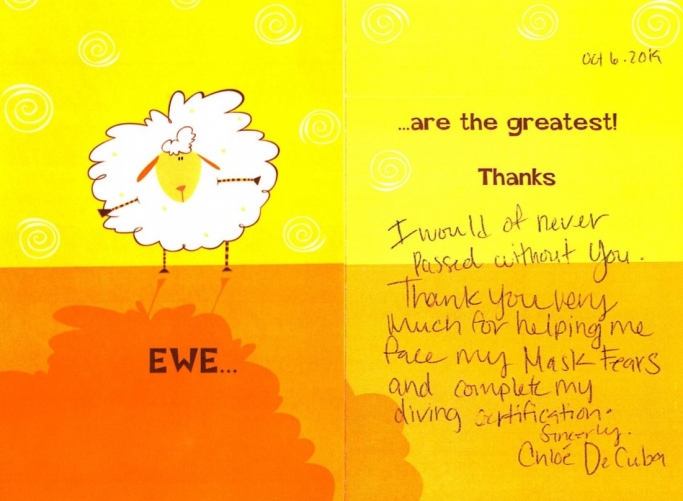 Chloe D. - October 2019

Good evening! Reminiscing about accomplishing my open water certification a year and 2 days ago. I just want to say, THANK YOU again!!! I am still diving and will dive the Islander on Saturday again! Travy is too and loves it! We dove in Keuka Lake this last Sunday.....my mask kept sliding and was very close to coming off several times......I started to get worried and then remembered the amount of pride I had in Clayton when I passed that skill with you. I also remembered you telling me you would never bother me again about my mask again!! I settled down and laughed to myself at how far I have come! The mask never came off! Thank you for being patient and guiding me through my certification. It was my biggest accomplishment and I appreciate you always for that! Have a great night!
From Theresa - August 2023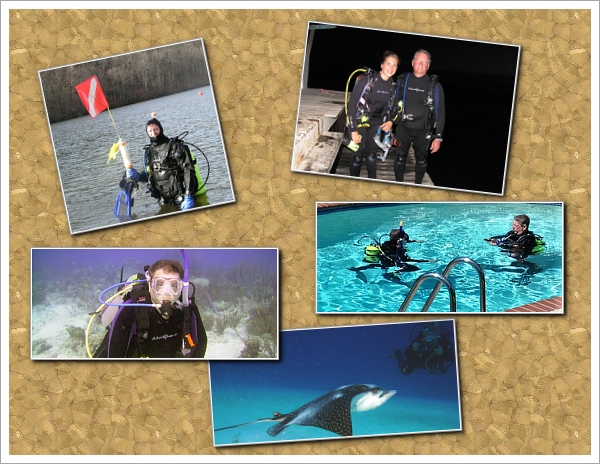 Advanced Open Water Diver Certification:
Looking for the Advanced Open Water Certification in the Utica - Rome area. Instructor Jean-Yves has posted his AOW classes for 2020 on the following dive dates.
August 3 Classroom - 7th & 8th Dives Sept 28 Classroom -2 & 3 Oct Dives
You can find these courses under the Aquatic World - "Improve Your Skills" menu. Call today to register for the Utica - Rome Area AOW classes with Instructor Jean-Yves.
Click here to go to the Advanced Open Water Course Schedule
No Courses Found