Blog
Read all our scuba diving related posts.
Raja Ampat – Papua Paradise Resort
Posted on: 12 Feb 2015 at 20:10 by TimC, in Travel - Comment: .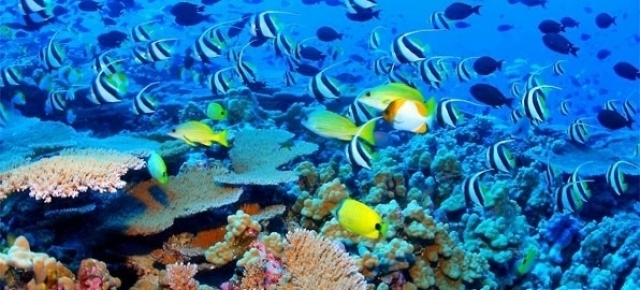 Posted on May 19, 2013
Our last Indonesia Blog provided you an overview of diving in Lembeh Strait and our stay at Kasawari Resort. We were so very impressed by both the diving and the resort, we decided to adjust our expectations down a bit for the next and last destination on our agenda, Papua Paradise Resort in Raja Ampat. Raja Ampat has beautiful unspoiled coral reefs, large animals, and small critters. On just our second dive my mission to find the blue ring octopus was fulfilled. This creature is beautiful beyond description and though very photogenic, seeing it is an undeniable privilege I will always treasure. We have seen Giant Mantas up close (within ten feet) creating a beautiful graceful dance performance just for us. We saw walking sharks on the house reef. Tim found three Wobbygong sharks on one dive site. We have seen many very beautiful nudibranches, lots of cuttlefish, pygmy sea horses, and schools of fishes bigger than we could have imagined. We were able to completely immerse ourselves in a school of mackerel so that we could not see anything except fish in all directions. Whales were surfacing in sight from our bungalow, baby black tip sharks near shore all around the resort, and a frenzy of activity happening with thousands of tiny fish jumping at once often throughout the day. The corals here are spectacular forming never ending gardens of shapes, texture and colors. Enormous formations are complimented with clouds of tiny glass fish engulfing the structures. We were thrilled to find our dive master here is Deni, a dear friend and a highly skilled dive guide we met while at Wakatobi on two previous trips. After working at Wakatobi for 7 years he has decided to move to Papua Paradise Resort to help them with the dive operation and to enjoy the wide diversity this area has to offer. We are treated to four dives daily included in our package complete with options for mandarin dives or night dives daily.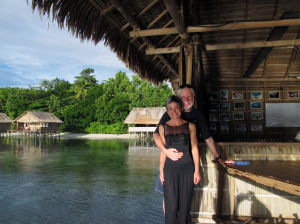 The resort is simple and on first glance may appear to be a bit too rustic as we approach by boat and can see the 15 bungalows sitting like perfect little boxes over the water in what otherwise is a masterpiece of Mother Nature unspoiled and pristine. There is no air conditioning and all bungalows are built above the water with boarded walks that give great viewing for sharks, octopus, eels, parrotfish and millions of tiny fishes. We were pleasantly surprised by how comfortable and accommodating the staff is to the little details. The bungalows have a fan, lots of room, hot showers, panoramic sunset view from the roomy porch complete with lounge chairs and hammock, coffee/tea making equipment, lots of hooks and closet space, a desk, mosquito net, an array of mosquito deterrents and a reading light. We have internet! The food is simple yet well prepared and satisfying. At night walking on the path to and from our bungalow the jungle reaches a level of noise that at first I thought must be a generator because it was so loud……not so……. just Mother Nature singing with gusto! Because we are in a very green lush jungle it does rain often and we are provided with umbrellas. We have seen at least six rainbows because the rain is always followed by sunshine.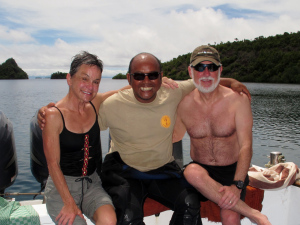 This resort has been under ownership of Lotus hotels for only an year now and they encourage our suggestions, feedback and insight. They plan to make improvements to the operation. A camera room, luxury bungalows, community room, and other details will be added soon.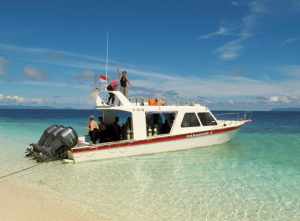 One of Papua Paradise's Dive Boats