Open Water Diver
The world's most popular scuba course
The PADI Open Water Diver course
If you've always wanted to learn how to scuba dive, discover new adventures or simply see the wondrous world beneath the waves, this is where it starts. The PADI Open Water Diver course is the world's most popular scuba course, and has introduced millions of people to the adventurous diving lifestyle. At Aquatic World we can help you discover this lifesyle and get your PADI Open Water certification.
what You Learn
The PADI Open Water Diver course consists of three main phases:
Knowledge Development (online, home study or in a classroom ) to understand basic principles of scuba diving,
Confined Water Dives to learn basic scuba skills,
Open Water Dives to review your skills and explore!
Prerequisites
To enroll in the PADI Open Diver course or Junior Open Water Diver course, you must be:
10 years or older (PADI eLearning requires a minimum age of 13 years due to international internet laws.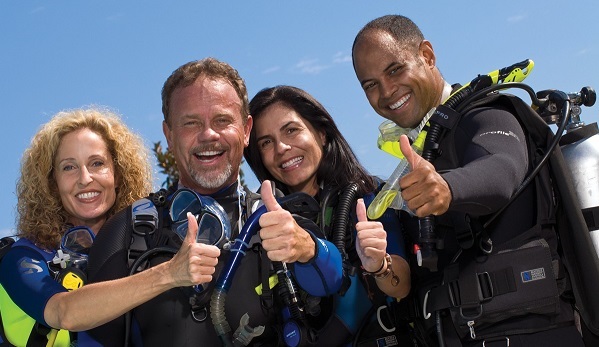 Aquatic World Provides a Comfortable and Convenient Environment for Training
The Fun Part
The fun part about this course is...well, just about all of it because learning to dive is incredible. You breathe underwater for the first time (something you'll never forget) and learn what you need to know to become a certified diver. During the course, you'll make at least five pool dives in Aquatic World's on site pool and four open water dives at local dive sites under the supervision of your Aquatic World PADI Instructor.
Get College Credits
You may be able to earn college credit for the PADI Open Water Diver course!
The Scuba Gear You Use
In the PADI Open Water Diver course, you learn to use basic scuba gear including a dive computer, and standard accessories (usage of required scuba equipment is all included in the Aquatic World Open Water program standard fee, with no additinoal hidden costs).
The Learning Materials You Need
PADI offers a variety of home-study materials for the Open Water Diver course - book and DVD package or a multimedia DVD-ROM.
PADI's Open Water Diver materials cover what you need to know about basic scuba diving skills, terminology and safety procedures. For each concept you'll read a description and watch a video demonstration. Then you'll jump in to Aquatic World's on-site heated pool to practice these skills with your Aquatic World instructor.
Later, as a certified diver, use the course materials as a reference guide for future diving adventures and to review what you learned. Aquatic World will assist you in making the right decisions on the scuba equipment you'll need to continue your adventures with competitive pricing options, on site service and support and a wealth of diving expertise to help you on your journey. We will also help you find an Aquatic World Dive Travel destination, or an Aquatic World Local Diving excursion to help you to begin your diving adventure experiencing new things, new places, new people and making new friends.
Come get certified with Aquatic World and let your underwater adventure begin!
Aquatic World Course options
Aquatic World offers a wide range of course options from group lessons over a five week period one night a week; group weekend lessons over a Friday evening and Saturday/Sunday as well as private* and semi private* options tailored to your schedule along with the flexibility of PADI's e-learning program. All course options include four open water check out dives either locally or possibly on one of our travel destinations. You also have the option to complete your four open water dives through the PADI referral program* at any authorized PADI dive center or resort.
* Additional fees apply for private and semi-private lessons with Aquatic World. Fees for referral dives are determined by the destination dive center or resort.
Start Date
End Date
Places Available
11 Jan 2019
13 Jan 2019
2

Openwater Diver (OW 1/11/2019)


Class is forming, depending on number of Students available wanting to take class on this weekend.

01 Mar 2019
01 Mar 2019
6

Openwater Diver (JYL OW 3/1/2019)
Course Instructor(s): Jean-Yves Latour.

Classroom 1-5 -

Fri 01 Mar 2019 from 18:00

to 21:30

- Aquatic World - On Taft Road
Pool 1, 2, 3 -

Sat 02 Mar 2019 from 09:00

to 16:00

- Aquatic World - On Taft Road
Pool 4, 5 & final -

Sun 03 Mar 2019 from 09:00

to 16:00

- Aquatic World - On Taft Road
Open water dive 1,2 -

Sat 15 Jun 2019 from 09:00

to 15:00

- Cape Vincent
Open water dive 3,4 -

Sun 16 Jun 2019 from 09:00

to 15:00

- Alexandria Bay - Islander
Make up class

The Open Water Diver course allows students to complete the class and pool sessions during Winter months and finish th Open Water Dives one of two ways: 1) Open Water Dives in the Summer here in NY, 2019. 2) Through the PADI Referral program at a PADI Dive Resort. Please take a moment to go to "http://aquatic-world.com/page/open_water_diver" for the medical questionaire and instruction if you have a "Yes" answer.