E-Learning Open Water Diver
A convenient way to complete your studies.
The PADI eLearning Open Water Diver course
Do you have a hectic schedule which makes weekly class attendance impossible? Live to far away to do the Friday night for the weekend class. PADI has the answer. eLearning. With eLearning you can do you classroom work in the comfort of your home and on your schedule. After completing the classroom portion, you can contact Aquatic World to schedule your pool sessions and open water dives.
To sign up for PADI eLearning simply contact Aquatic World by email or phone (315) 458-1955. A great way to get a head start!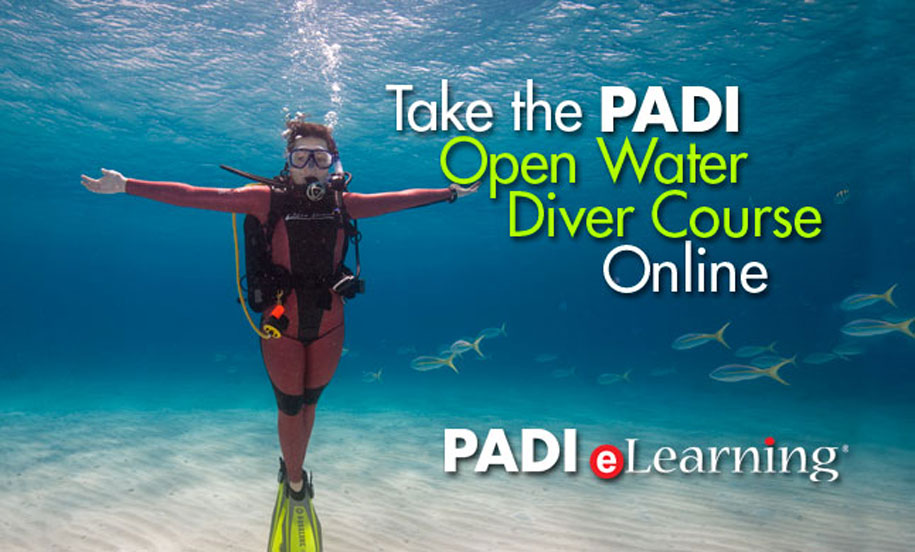 What does it cover?
The PADI Open Water Diver course is, by far, the world's most popular scuba certification course. Millions of people have started diving as certified PADI Open Water Divers. Learning to scuba dive requires both knowledge development (facts, principles, concepts) and dive skills (techniques, methods). The PADI Open Water Diver Course online provides the knowledge development portion you need. You develop the remaining skills by actually diving with a PADI Instructor at your local PADI Dive Center or Resort.

What are the PADI Open Water Diver course prerequisites?
To be certified as a PADI Open Water Diver, you need to be at least 10 years old*, fit for diving, and able to swim. To be able to participate in the PADI eLearning Open Water online program, you simply need to be at least 10 years old.

*In some regions the minimum age is higher.

How does it work?
After enrolling, PADI's eLearning® system presents you with interactive presentations that include videos, audio, graphics and reading. Short quizzes let you gauge your progress, and review and correct anything you might happen to miss. This lets you move through the program efficiently and at your own pace.

What else is required to complete the course?
Prior to certification as a PADI Open Water Diver, you'll visit your PADI Dive Center or Resort to complete your training. You'll take a short eLearning Quick Review to confirm your understanding of safety-related material from the course, and you must successfully complete five confined water dives and four open water training dives with your PADI Instructor. You learn and master each of the required skills in confined water (in Aquatic World's heated on site in door pool) first before moving on and showing your instructor that you can comfortably repeat those skills in open water. As a PADI Open Water Diver, you will be a certified entry-level diver able to rent dive gear, get air fills and dive anywhere in the world in better or similar conditions to those you've trained in.

What does it cost?
The PADI Open Water Diver Course online is the course amount nonrefundable payable directly to PADI. The fee covers your knowledge development training and gives you unlimited access to an electronic version of the PADI Open Water Diver Manual (course textbook). Aquatic World charges an additional fee for the inwater portion of your certification. You may also need to purchase a mask, snorkel, pair of fins and other personal dive equipment. Aquatic World will help you choose equipment suited to your needs and does discount the instructional fee and personal gear when you combine the two with Aquatic World.

How long do you have to complete the eLearning course?
The eLearning course will be available for one year from the time of course registration. Though you must finish the online portion of the course within that time frame, you will have perpetual access to an online version of the PADI Open Water Diver manual.

What is the minimum amount of time it will take to complete this eLearning program?
The PADI Open Water Diver Course online will take approximately 12-15 hours to complete.

How do you document that you've completed the eLearning segment?
Once you finish the eLearning portion of the course, your dive center is notified that you have completed it and that you are ready for the practical phase of the program. At the end of the eLearning program, you can print out your eRecord and bring a copy of it with you to Aqautic World when you begin your pool sessions.
The PADI Open Water Diver course consists of three main phases:
Knowledge Development (online) to understand basic principles of scuba diving,
Confined Water Dives to learn basic scuba skills,
Open Water Dives to review your skills and explore!
Prerequisites
To enroll in the PADI Open Diver course or Junior Open Water Diver course, you must be:
10 years or older (PADI eLearning requires a minimum age of 13 years due to international internet laws.
Review the Medical Questionanaire and obtain physicians opproval on the attached form, if required
The Fun Part
The fun part about this course is...well, just about all of it because learning to dive is incredible. You breathe underwater for the first time (something you'll never forget) and learn what you need to know to become a certified diver. During the course, you'll make up to five pool dives in Aquatic World's on site pool and four open water dives at local dive sites under the supervision of your Aquatic World PADI Instructor. If you require additional pool dives there may be additional fees.
Get College Credits
You may be able to earn college credit for the PADI Open Water Diver course!
The Scuba Gear You Use
In the PADI Open Water Diver course, you learn to use basic scuba gear including a dive computer, and standard accessories (usage of required scuba equipment is all included in the Aquatic World Open Water program standard fee, with no additinoal hidden costs).
The Learning Materials You Need
PADI offers a variety of home-study materials for the Open Water Diver course - book and DVD package or a multimedia DVD-ROM.
PADI's Open Water Diver materials cover what you need to know about basic scuba diving skills, terminology and safety procedures. For each concept you'll read a description and watch a video demonstration. Then you'll jump in to Aquatic World's on-site heated pool to practice these skills with your Aquatic World instructor.
Later, as a certified diver, use the course materials as a reference guide for future diving adventures and to review what you learned. Aquatic World will assist you in making the right decisions on the scuba equipment you'll need to continue your adventures with competitive pricing options, on site service and support and a wealth of diving expertise to help you on your journey. We will also help you find an Aquatic World Dive Travel destination, or an Aquatic World Local Diving excursion to help you to begin your diving adventure experiencing new things, new places, new people and making new friends.
Come get certified with Aquatic World and let your underwater adventure begin!
Aquatic World Course options
Aquatic World offers a wide range of course options from group lessons over a five week period one night a week; group weekend lessons over a Friday evening and Saturday/Sunday as well as private* and semi private* options tailored to your schedule along with the flexibility of PADI's e-learning program. All course options include four open water check out dives either locally or possibly on one of our travel destinations. You also have the option to complete your four open water dives through the PADI referral program* at any authorized PADI dive center or resort.
* Additional fees apply for private and semi-private lessons with Aquatic World. Fees for referral dives are determined by the destination dive center or resort.